Part 2 of 2
It's been three weeks since Marc and I got back from Iceland yet we are still talking about it. It was that great of a trip. But don't worry about me too much. I went to Costa Rica for five nights to try to drown my sorrows about a week after I got home from Iceland. I highly recommend everyone put Iceland on your list. I know it's cold and wet and people want to go where it's warm and dry, but trust me you won't regret it.
Full disclosure: I had a really hard time picking the best pictures from this leg of the trip, so there are a gazillion. Consider this my Iceland Part 2 blog post a photo album more than an actual blog post. Also, when you are traveling around a country that's sparsely populated, selfies or solo shots are basically your only options. I was getting tired of our selfies with Marc's arm in the corner of every shot, so I had the idea of doing what I called a "double pano." I had Marc stand to one side while I slowly started taking a pano, when he was out of frame he ran over and I carefully handed the camera off to him, then I would run to the other side as he continued the pano shot. This is how we managed to take pictures with both of us in the frame without it looking like a selfie. Check out the cool video Marc put together of all our "double panos" from the trip:
Ok, now continuing where I left off from my previous post:
Saturday we woke up really late after going to bed past 2am watching the sunrise in Fjallakaffi. There's a sentence I never thought I would say. We tried to go on a walk but the wind was so strong that we finally gave up. We didn't get on the road until 11am that day.
We drove to a town in the northeast called Húsavík which is a little outside the Ring Road. It required driving a bit on gravel road which Marc had made me promise he wouldn't have to do anymore, but since he was the one who really wanted to go whale watching, he didn't complain too much when suddenly part of the road went from asphalt to gravel (as per usual in Iceland).
The conundrum about Iceland is the most comfortable way to see it is by RV but most of the really neat, hidden gems are off "F" roads that require 4×4 cars. But from what we were told, just before the start of the tourist season which is June 1, all the roads are repaved from the beating they endure over the tough winter so that even three digit roads are passible by most cars. F roads though still require 4×4 in most areas.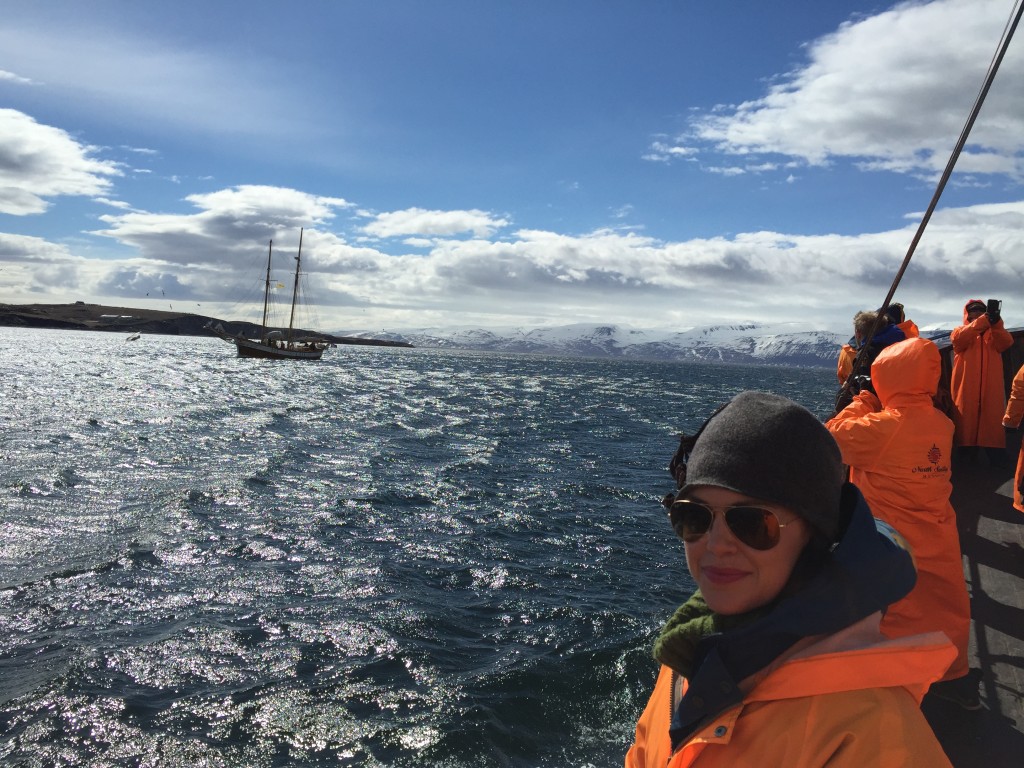 Húsavík is self proclaimed to be one of the best whale watching parts of the world. It is a cute, small, seaside town and also the place where I had the best soup I've ever had in my life. But I'll get to that later. We did the whale watching with a company called North Sailing. They were lovely, of course, as everyone in Iceland is lovely. I would highly recommend them.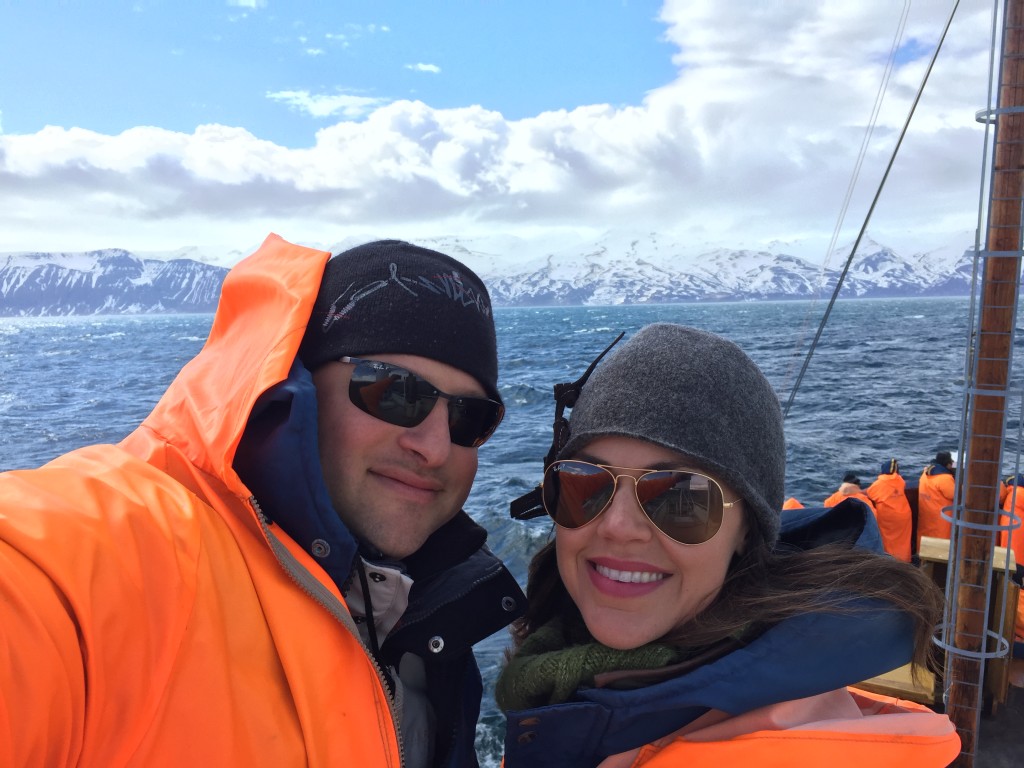 That day was our first beautiful, full sun, no clouds day of our trip. We picked the perfect day for being out at sea. But as always, since it's Iceland (guys, the word ice is in the name) we bundled up in layers. Plus, North Sailing provided each customer with a blue waterproof jumpsuit AND a full-length bright orange water proof jacket.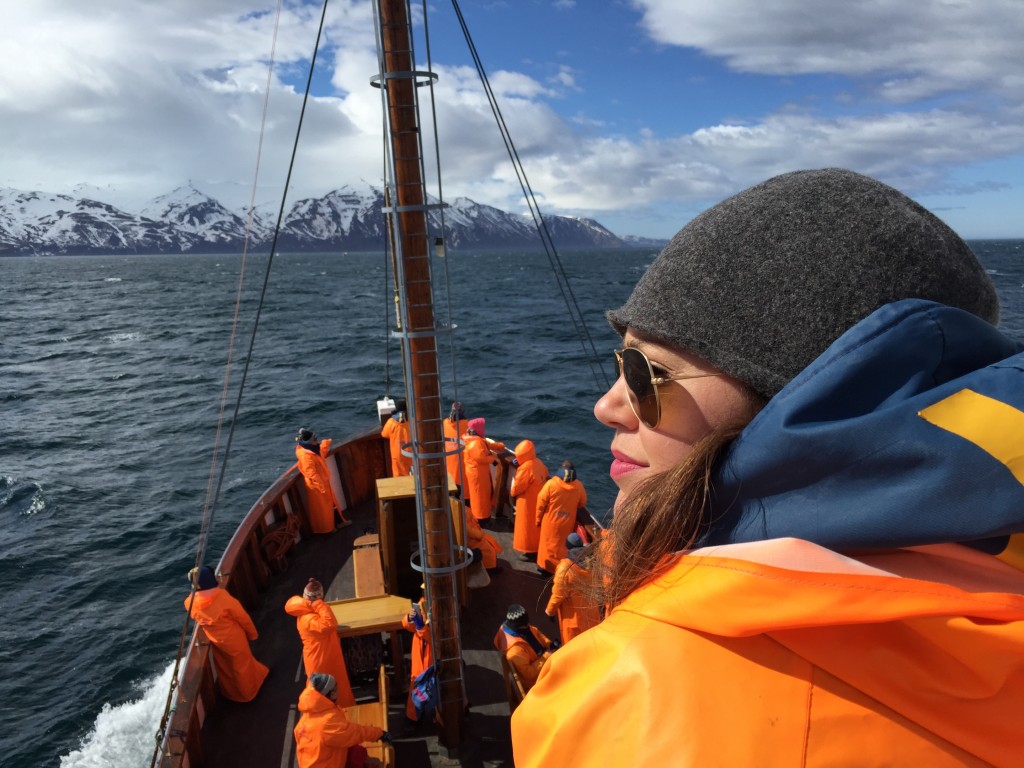 And thank goodness for that. Though Marc and I didn't get wet because we climbed up to the crows nest for the whole ride, I was so grateful for the extra layers as the sun was deceivingly weak and we were FREEZING. Three hours out in the open water with that Iceland wind will cut through all the layers straight to your bones.
We did see some huge humpback whales and a ridiculously beautiful horizon, so it was worth it. Oh and we learned that puffins, a native and adorable bird to the area, can dive up to 30 meters (assuming I heard correctly) into the water to hunt for fish. Not sure why but that fun fact was the only educational thing that stood out in my brain from our whale guide.
After the freezing ride we needed something to warm ourselves up with and now we were on day four so we wanted to vary from our hot chocolate and tea. So we went to a little restaurant painted yellow right off the dock called Naustið. As always, I really cannot say this enough, we were greeted warmly and sat immediately. We both ordered the fish soup of the day (Marc ordered his minus the fish…what?).
Guys, for real, this soup was probably the best soup of my life. Maybe the fact that I was freezing and it was the first meal that I didn't have to cook (and clean up after) of the trip had something to do with it, just maybe but probably not. It was creamy and brothy and tomatoey and slightly curry all at once. I ordered another bowl to go. That's how good it was.
We drove back to Lake Myvatn and decided to look for a hot spring in a cave I had read about before we hit up the major hot springs in the area. Yall remember that scene in Game of Thrones when Jon Snow and Egrit finally do the deed in a hot springs in a cave? That scene was shot at Grjótagjá hot springs in Iceland (along with many other scenes from GOT, so we were told).
As always there was no direct and easy way to get there, so we veered off course and had to make it through some gravel roads before finally ending up at the base of a volcano crater called Krafla. There were a couple of signs and a flattened area where one could potentially park a car so we took it as a good sign that we were at the right place.
Me being me, I saw the opportunity for a hike and some extra exercise so I convinced Marc to climb the desolate (how many times can I use this word to describe places in Iceland?), rocky, black volcano before walking to the springs.
There is something about volcanoes that attracts wind. When we got to the top the wind was so strong it almost blew me into the volcano mouth (or maybe that was Marc pushing as his patience was starting to wear thin that day, but we hadn't even gotten to the worst of it).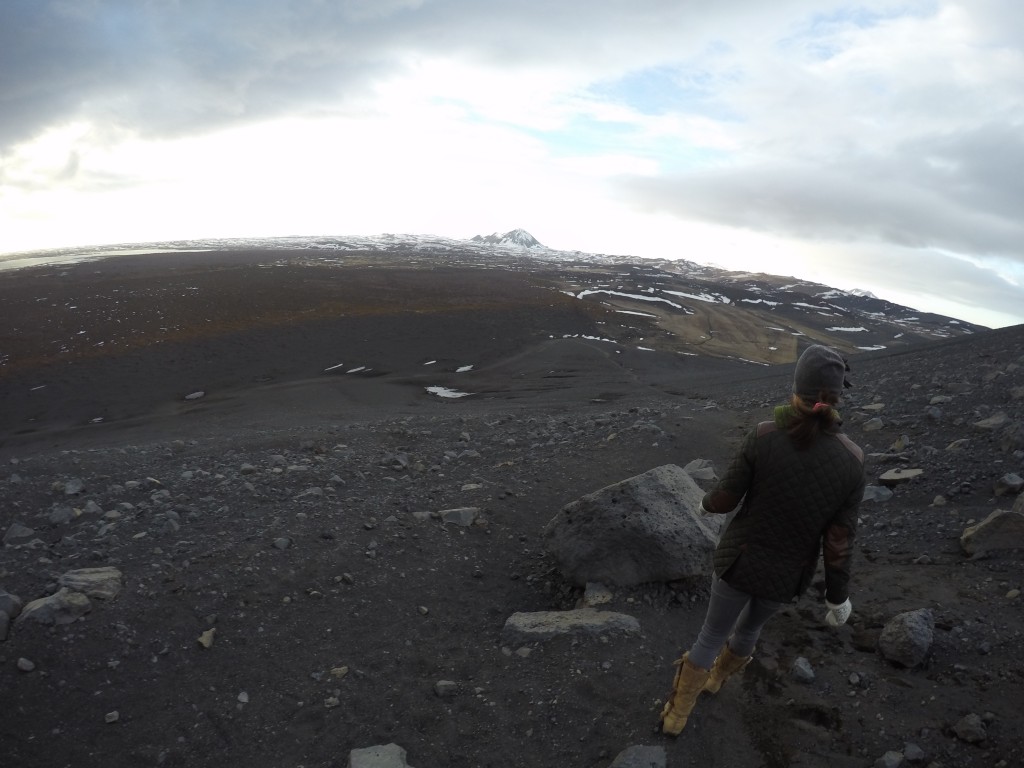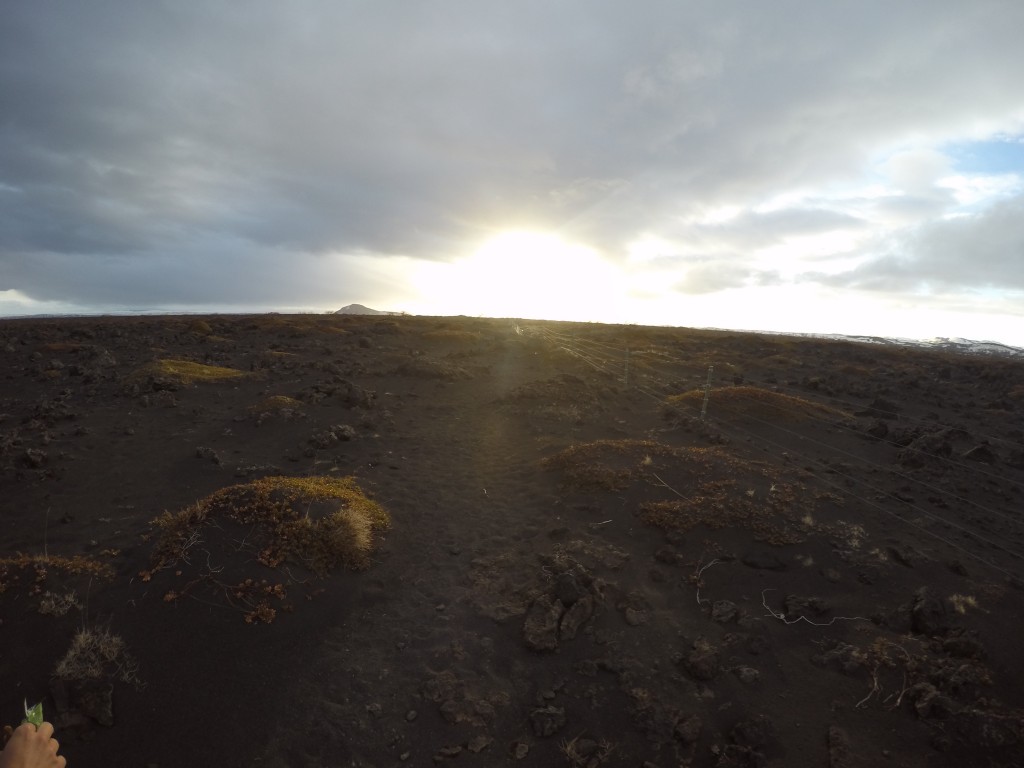 At the bottom of the volcano we found the trail that would lead us to Grjótagjá. After about 30 minutes of walking through lava fields with our bathing suits under our clothes, through the snow and weird mossy vegetation, we finally get to… a perfectly paved road. WHAT?
We crossed the perfectly paved, brand new road onto a perfectly paved parking lot. Directly in front of Grjótagjá. At this point Marc's patience was almost non-existent… But what really made it fly away was when we read the sign saying the hot springs are closed due to the dangerously high temperatures of the waters.
This was the first time in our relationship I could see on Marc's face that I had tested his patience and came out the loser. Again, this is what happens when one doesn't properly plan a trip. This was the first time in my life I did such little research before visiting a country and I certainly chose the wrong time to do so.
Since we were there Marc wanted to at least climb down to the waters edge to look around and take pictures but it was dark and we didn't have a flashlight as we (I) were not prepared.
On our way back we somehow lost the trail and ended up in the middle of a lava field with no clear direction on where Betty (our RV) was and how we should get back to her. After stepping on way too much precious moss we finally found some snow and our tracks, and made our way back. Sadly though by that time it was too late to go to the famous Lake Myvatn hot springs as they had already closed. Any resemblance of patience that Marc may have still retained at the moment was gone completely. Whoops!
Back on the road we went towards our next destination which was the city of Akureyri but as it was getting late and close to dinner time, we decided to stop at the Fossholl campgrounds near the Godafoss waterfalls.
The campgrounds of course, per usual, were not quite open for the season but the hostess at the guesthouse let us park there anyway.
The next morning we got up and walked across the street to the beautiful Godafoss waterfalls. It's really amazing how little restrictions there are in Iceland.
One could literally walk right on the rocks and out to the very edge of the waterfall. It's so nice to have all these important, natural destinations free of railings and schedules and ropes and warning signs. If you decide to do something stupid and get too close to the edge and fall, that's on you. As it should be.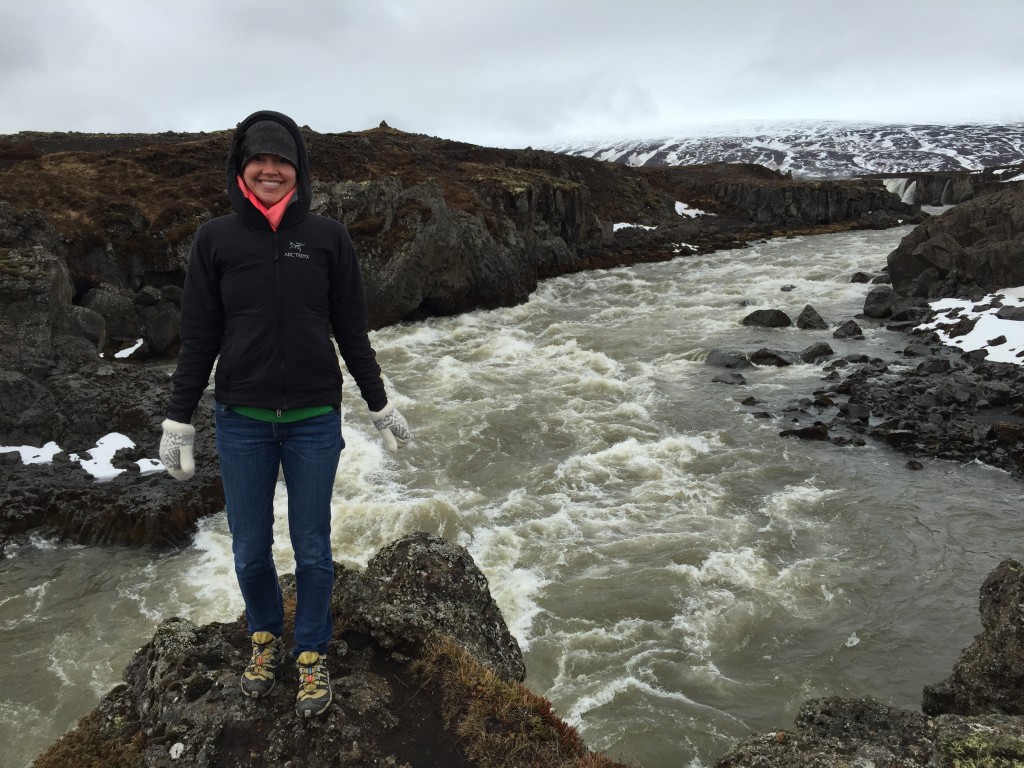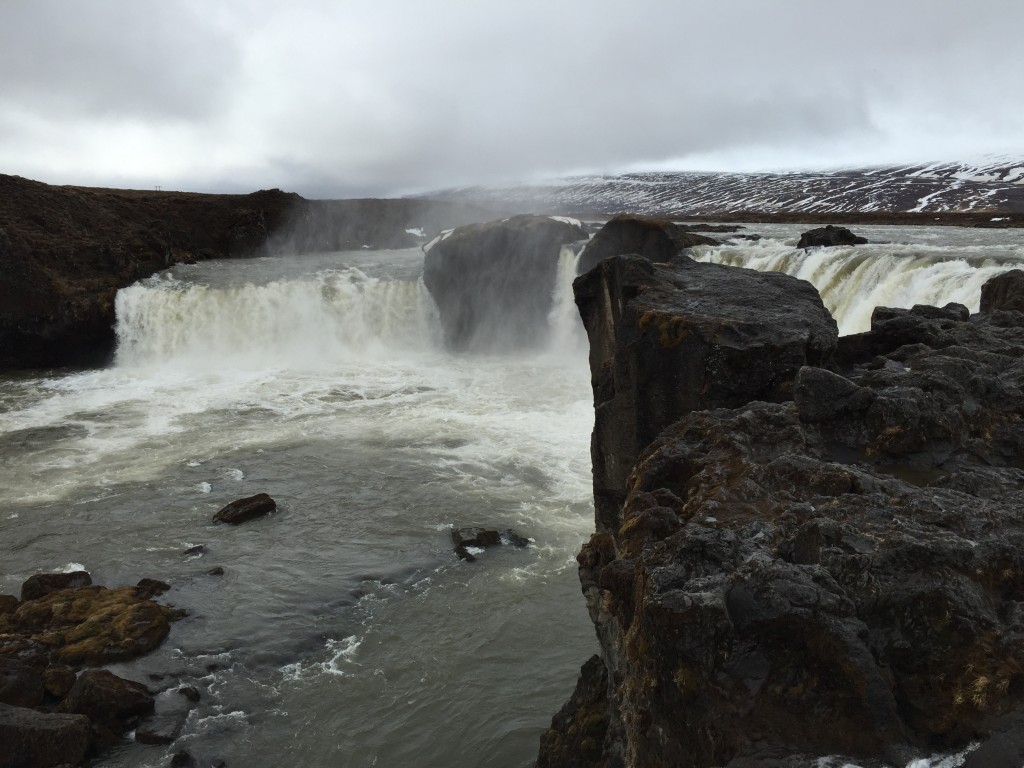 After our hike I begged the hostess at the Fossholl guesthouse if she could please let me use one of the bathrooms to shower. I even offered to pay her. She asked me why I didn't just shower in our RV to which I explained that I could but the hot water only runs for about two minutes not to mention the lack of space, so I hadn't washed my hair for six days. Oh yes that's right, six days.
She conceded, for a small price, and let me shower in her personal shower. It was the most glorious shower of my life!
At Akureyri we saw the first stop light of the entire trip. This was day five. We decided there was nothing much we wanted to see there so kept driving. We stopped off at a little unnamed forest on the side of the road with a little parking lot to have lunch and get a little exercise, and continued on our way to Þingvellir.
As happens a lot along the Ring Road in Iceland, there are always interesting sights to stop and see right off the road. A bit further down from our lunch spot we stopped again, this time at the volcano craters of Grábrókargígar.
It was extremely windy, making it really hard to climb the steps up to the mouth of the volcano. Then we got to the top and the wind from below was like child's play. Speaking of children, I'm pretty certain the wind on the top of that volcano crater would have picked up a child easily and carried her away.
At one point a gust of wind came so strong that it pushed me, making me lose my balance and this time I really really almost fall into the crater. This was the strongest wind we had experienced yet on the trip. And that is saying A LOT.

The good news is there was a beautiful rainbow so even though we were freezing and fighting the wind for our lives, at least it was a magnificent view. I wanted to test out the strength of the wind so I planted my feet, faced the wind head on and let my body fall forward to see if the wind would catch me. Yall, I am not kidding when I say I put complete trust in the strength of that wind and it did not fail. It held me upright. I threw my full body weight into the wind and I did not fall. That's some serious wind they've got there in Iceland. Marc and I were literally locked arm in arm fighting the wind to get down from the mouth of the volcano.
When we got back in the RV it was about 7pm which meant it was WINE TIME! For me only, not for Marc as he was the driver. It had become a custom of our trip that every evening around 7pm, usually after some freezing hike, I would make myself a cheese and cracker plate, pour a glass of wine and blast Enya while Marc drove us to our next destination while I sat enjoying the scenery. Not gonna lie, it was a pretty legit set up. I was not hating it.
To get to Þingvellir we had to drive around Reykjavik. Since we were coming from the north that meant we could take the Hvalfjörður Tunnel that goes under the Hvalfjörður fjord (inlet of water). We were really excited about driving under water but when we got to the entrance of the tunnel it was closed for repairs! AH! So we had to turn around, back track about 45 minutes and take the long way around to Þingvellir.
Thankfully, as always, the scenery was beautiful so we didn't really mind that much (easy for me to say as I wasn't driving and was sipping on wine).
The Þingvellir visitor center and campgrounds were thankfully open and pretty full. We were the only RV though, everyone else was in tents. That night was SUPER windy and we felt so sorry for all the people in the tents as the winds shook our RV all night long. (Insert dirty joke here. You know you want to).
We loved our location and view so much we decided to have a little Sunday Funday with our dinner and stayed up drinking wine, listening to music and reminiscing on the recent adventures through all the pictures and videos.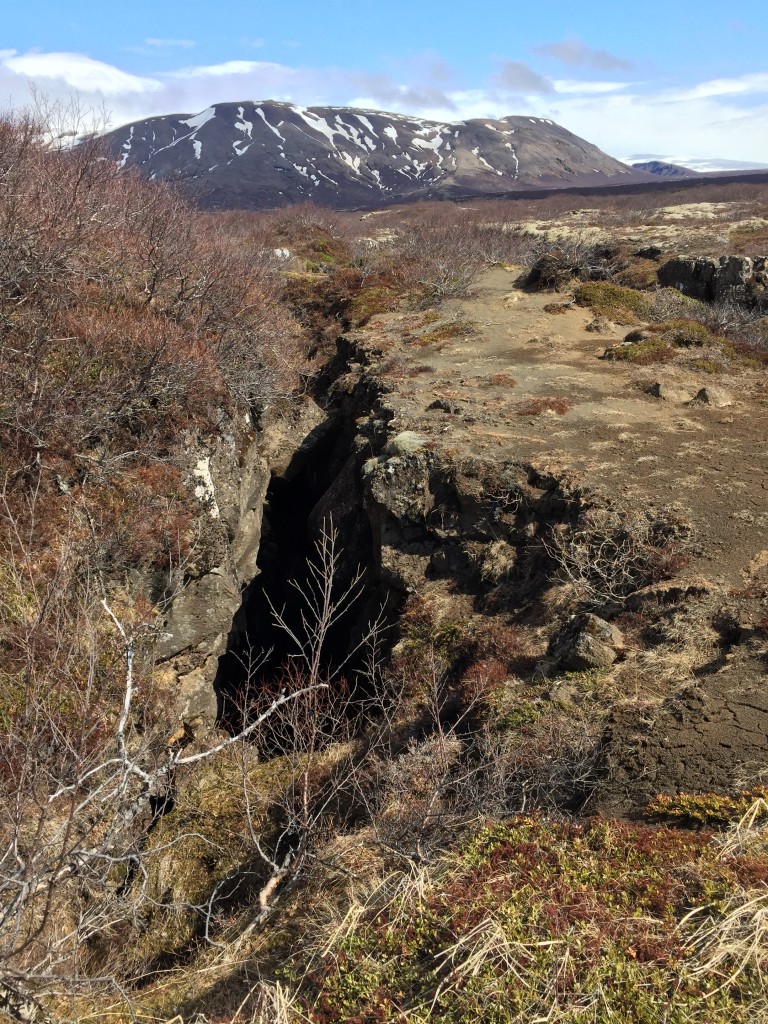 Monday morning we woke up to a PERFECT day. I mean just crystal clear, sun shiny, breeze (not wind), dazzling perfection. We had a hearty breakfast, packed up snacks, hot chocolate, the thermos with hot water and some cold waters and went off to hike.
We reveled in the glorious sunshine and walked around for four hours with no clear direction all through Þingvellir National Park. This ended up being one of our favorite days of the trip.
Simply put, the park is beautiful. No wonder it's part of the Golden Circle along with Gullfoss and Geysir. These are easy to access, close to Reykjavik and not to be missed. Þingvellir is interesting in that it has historical importance as the grounds on which the Icelandic parliament was formed and in that it sits on two tectonic plates. It also used to be completely covered in ice with volcanic movement underneath, which caused a pretty unique landscape.
We walked along the old ruins of the parliament gatherings from the 900s, stopping at one run down, grass covered remains of a stone foundation for some hot chocolate. From there we walked through (more) lava fields suddenly arriving at a split in the land with the most beautiful, crystal blue water. The water was so clear you could see 30-40ft down to the bottom of this crevice.
We continued walking towards a large waterfall through a pretty little forest with plush, thick mossy undergrowth. There was a group of school kids having the time of theirs lives running around freely without restraint, with a couple of relaxed moms watching over them from afar. We looked at each other and said "This would never happen in the states." Shame. The kids looked free, happy and perfectly safe.

Oxararfoss waterfall ended up being one of our favorite waterfalls. Not so much for it's magnificence or fierceness, but more for the overall location and the path to get to it. Maybe the perfect, beautiful day helped.
We sat on the newly constructed, but demure, deck for a little snack then headed back to our campgrounds through some interesting rock formations, another pretty forest and open, flat plains. The landscape in Iceland is never the same for more than a few kilometers at a time it seems.
Marc took the opportunity to shower in the excellent facilities at the campgrounds as I made a (very) late lunch and we headed off to our next destinations: Geysir and Gullfoss.
Along the way we stopped at Laugarvatn Fontana to do a(nother) quick walk through a pretty wooded area. Only after we left did we realize there are some important hot springs in that town. Not gonna lie, we did not do the hot springs portion of Iceland which is what drives so many people to visit the country. Somehow we were always just missing them (and by "somehow" I mean because I hadn't planned properly…whoops again).
Geysir was probably the first serious tourist attraction we saw on our trip. It had a legit huge parking lot, tour buses, enormous gift shop, restaurant and even a tiny food mart. I suggest you don't arrive there hungry as you will end up paying an arm and a leg for food there. Our Sunday Funday the night before had left us with a dry Betty, so Marc bought me a tiny little one serving bottle of wine and a chocolate bar for himself for $17!
The Geysir was awesome though. It erupted every few minutes and was so cool! Oh wait… back up. In doing my research AFTER the fact I have come to realize that Marc and I drove all the way to the Great Geysir visiting center to see the Great Geysir amongst many other small geysirs and hot springs. We made the common mistake that a lot of people make of thinking Strokkur was the Great Geysir. We watched it three times, took some amazing slow motion pictures and went back to our RV without ever seeing The. Great. Geysir. That folks, is the pinnacle of a dumb tourist.
But on the flip side. Strokkur erupts every few minutes up to 30 meters while Great Geysir only goes off on average of three times a day. Who has time to sit around waiting for it to erupt? Not us! At least I'm trying to convince myself of this to make me feel better for missing THE Geysir.
Moving on to the beautiful, magnificent and huge Gullfoss! It's a two-tiered waterfall with so much force that for years in the early 20th century many people wanted to use it to generate electricity. Thankfully conservation won out and it's been nationally owned and protected ever since.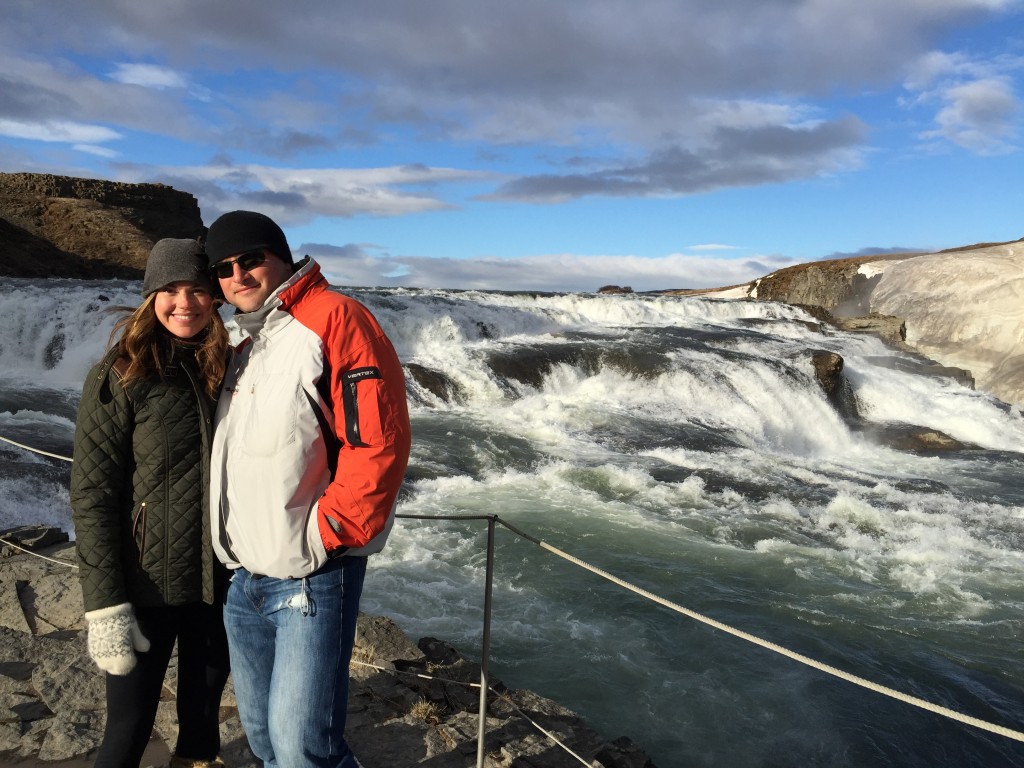 Our last night in our RV sadly was our least favorite. Not just because it was our last night but because the campgrounds at Selfoss were not that great without much of a view. So we just ate dinner and early to bed as the next morning we had to get up early to drive to the Blue Lagoon for our appointments! SO exciting!
Tuesday morning we drove back to the Blue Lagoon, this time with much more confidence since we had officially booked reservations.
Also, our appointments were for 10am, right when it opens, so we were hoping there wouldn't be much of a crowd. We could not have been more wrong. By the time we pulled into the parking lot at 9:56am it was already packed with cars and tour buses. But thankfully the Blue Lagoon is a well-oiled machine and we got through without a hitch.
Marc and I separated to go to the locker rooms. It was huge and already buzzing with women. The priority of the Blue Lagoon is cleanliness which I am in full support of, so everyone is made to shower in the nude prior to putting on your bathing suit and going in the lagoon. Don't worry, there are so many people and everyone is so confused, there is no time for modesty (and if you are really uncomfortable being nude, you can sneak into the showers with your swimsuit on).
They also recommend slathering your hair with conditioner to protect it from the waters of the lagoon. As good as it is for your skin, it's apparently not good for your hair. I wish I had listened to the woman who suggested I just leave my hair up in a bun and not wet it at all. If I can leave you with one piece of advice in Iceland it's this: do not let your hair touch the waters of the Blue Lagoon. I repeat. DO NOT LET YOUR HAIR TOUCH THE WATERS OF THE BLUE LAGOON. It will suck all the nourishment and silkiness out of it leaving you with something more resembling a broom on your head.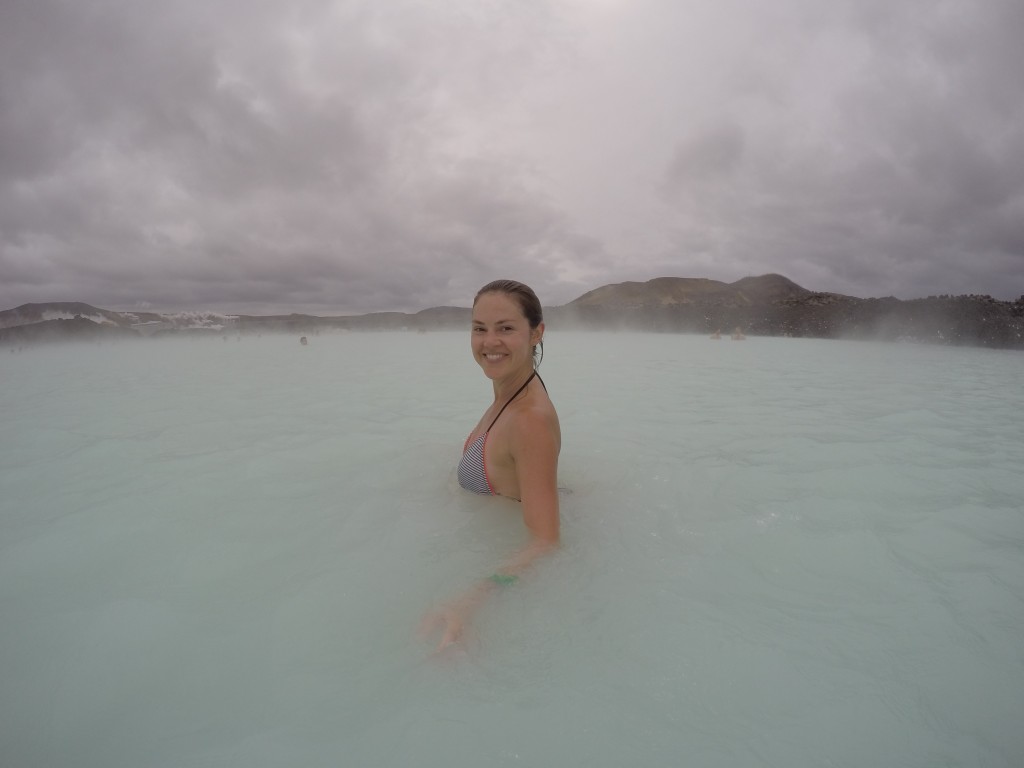 Marc was waiting for me at the entrance to the waters. I had been worried about being out in the freezing cold in only a swimsuit before getting in the water, but I shouldn't have because the Blue Lagoon is very well designed. We were in a warm, glass enclosed room before taking the steps into the hot water (inner pool). From there we took a side door in the water that lead us out to the open air larger pools.
The water is mostly high waist deep but there are some areas that are deeper. Though the outside air is very cold, the water is so warm that I was completely comfortable the whole time. In fact, some areas of the lagoon are hotter than others (nearest the actual hot springs) so in those moments it was a relief to have my upper body out in the cool air.
First things first, we went to one of the wooden boxes where the silica mud is kept so we could slather it on our faces. It's weird, slimy and so fun! We let the masks dry as we explored the lagoon and after 10 minutes rubbed it off.
Then we applied the green algae masks we were given with our package. When it was time to remove that is when I made the mistake of going completely under water and ruining my hair forever.
There is a bar in the middle of the lagoon so we swam up to that as our package included a free drink each and then we relaxed the rest of the time as we sipped our drinks. All in all it was a really lovely, unique experience and I highly recommend it. Just DON'T WET YOUR HAIR.
Once we were done we showered up again and sadly drove Betty back to the RV rental place to return her. The return inspection and check out took about an hour, after that we were driven to the airport as part of the package. At the airport we took the Air Bus shuttle into Reykjavik to the hotel we had booked for the last night of our phenomenal, frigid adventure (or phenomenally frigid adventure. You chose).
We stayed at the Reykjavik Marina hotel which came recommended by Marc's friend; it did not disappoint. It was quaint and quirky, really quirky, and as with everything in Iceland, they were undergoing construction adding to the hotel.
We checked in, took showers (in which I washed my hair for only the second time in seven days) and headed out for our one night in the city. The best way to describe Reykjavik is the same way I described our hotel: quaint and quirky. Oh and pink. They like hot pink.
We didn't have too much time to wander around as it was 8pm and I was starting to get hangry (not a typo: hungry+angry) so we walked the 15 minutes or so to the restaurant I had read about called Kex.
Kex is a restaurant in a hostel, I had a couple of back up restaurants on my list in case it was a little sketchy, and certainly there was a moment as we walked up to the plain, industrial building with a steel door and a small sign saying "KEX" that I thought "this isn't going to work out." But we went in anyway and took the flight of stairs up and suddenly were in a huge, packed room that was both the lobby/check in of the hostel, barber shop, stage with a jazz band and restaurant.
We decided without hesitation that we definitely wanted to eat there. We sat at the bar so we could have some interaction with other people since for the past six days we had basically only spoken to each other living in that RV.
We sat next to a young girl who as it turns out was touring through Europe by herself staying at hostels. Brave, adventurous girl… She was staying at Kex and said it was a great hostel and the food amazing, so we ordered some appetizers and dinner and settled in.
She was right. The food was amazing. And we ordered way too much of it. It must have been the excitement of eating out and not having to cook and clean up. Our apps were great and our dinner delicious. Marc had the lamb burger and I had the fish. I don't normally order fish (I'm a red meat eater by birth) but I figured if I couldn't get good, fresh fish in Iceland than where else? It was so good and so freaking fresh that even Marc, who does not eat seafood, tried it and loved it. I would definitely recommend Kex because not only is the food super tasty but also it's a fun, entertaining scene.
As we were strolling around after dinner we came across a small, adorable looking restaurant called Laekjarbrekka and we decided to go in for dessert. It was French and as we ordered dessert the man at the table next to us told us if dessert was as good as his dinner was then we were in for a good time.
Dessert was delicious; the atmosphere quiet and calm. Perfect for a romantic evening in Reykjavik. But at that point Marc and I were more thinking of sleep than romance so we didn't linger too long.
We went to bed that last night with mixed emotions: sadness, exhaustion, happiness and desire. Sadness over leaving such a beautiful country. Exhaustion because we didn't stop the entire seven days. Happiness over how great the trip was. Desire to see more!
My advice to you is: Go to Iceland. Put it on your list, high on your list, of places you want to visit. Then don't think about it too much, book your tickets and go. But if not to Iceland, somewhere. Anywhere. Just travel. It's the best thing in life. At least, it is for me.
So now my question is: Where to next?