Part 1 of 2
A few weeks ago, without either of us being able to recall how it really all came about, my boyfriend Marc and I started talking about a trip to Iceland. It's a place I had always wanted to go (but where in this world do I not want to go?), primarily because I love trying to say the name of it's capital city, Reykjavík (which I have learned I was pronouncing incorrectly this whole time. No big shocker there) and to swim in the Blue Lagoon. But also because I've heard it's a very "outdoorsy" place and nothing is more appealing to me than being in the outdoors. And it's especially appealing if you consider in the summer they have 24 hours of sunlight, which means maybe even I will tire of being outside. Marc was down to go because he as well wants to travel the whole world. Man after my own heart.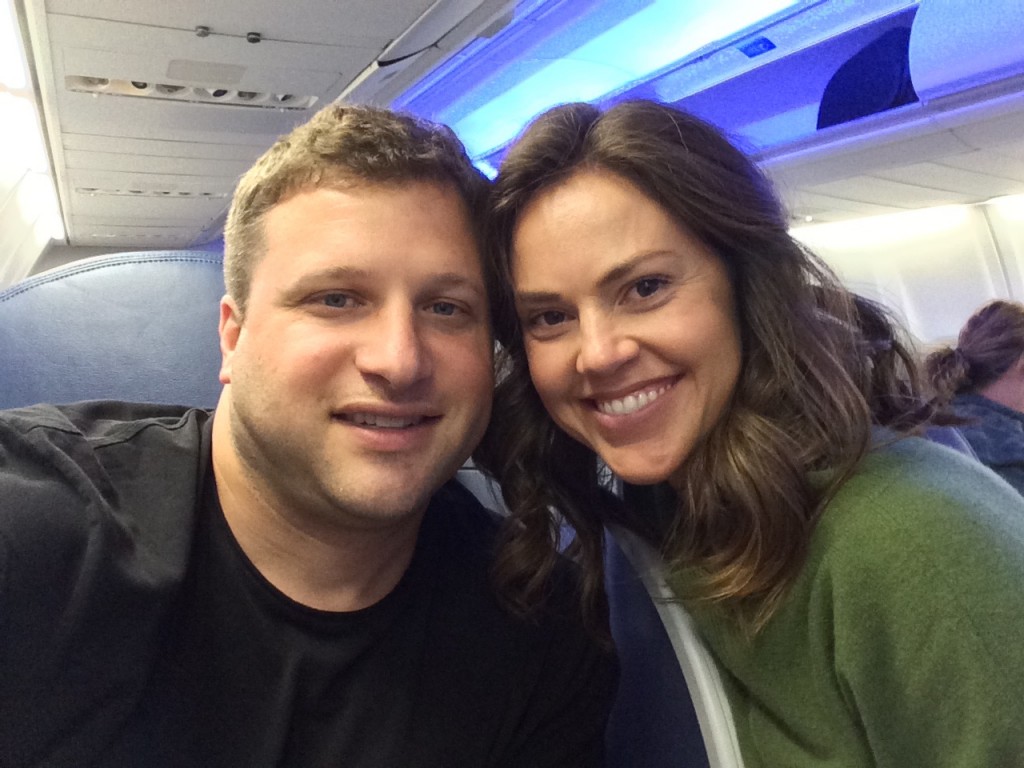 Marc's brother is an airline pilot so he was able to get us a deeply discounted rate for himself and a buddy. He looked into the flights to Iceland and they were crazy cheap, so we started doing some top line research without really confirming that we wanted to go 100%. We had general idea of when we wanted to leave, we knew we wanted to rent an RV and drive the Ring Road and that was basically it.
About three days before our supposed departure date we finally confirmed we were going. So Marc immediately got online working on booking the RV, I mapped out our route and about 24 hours after confirming our tickets and RV reservation, we were on our way to Iceland!
We flew into Keflavik , the main airport right outside of Reykjavík. The KEF airport is fairly small but growing. Everyone in Iceland speaks English and is very friendly. We were greeted at baggage claim by the RV rep who drove us to the Touring Cars facility, the company we used to book the RV. The whole process took a couple of hours and we were exhausted by the time we pulled out in our RV at noon. Exhausted, but happy as the RV more than met our expectations (it probably helped that we had a five person RV for just the two of us). We named her Betty Victoria Daniels (the license plate started BVD).
Out of the 600,000 people in the entire country of Iceland, two thirds of those live in Reykjavík. So that means 200,000 people are spread out across the rest of the country. Most towns (which are tiny) are along the main highway: Route 1. Otherwise known as The Ring Road. There are hotels and guesthouses (what I've come to learn is what they refer to as bed & breakfasts) along the Ring Road but we decided on the RV as the best option so we could do the Ring Road on our own timeline and not always be stressed about making it to the next location and to avoid back tracking.
Our very first stop was the Bonus supermarket to stock our fridge and "pantry" for our trip. As I write this now, on the flight back home, I will say I did a pretty good job with the grocery shopping as we did not have to go back to a store and only ate out two meals on our entire seven nights stay.
Our next stop was the world famous Blue Lagoon. The directions had us turn into black, desolate lava fields which were not very pretty at all, but then suddenly we could see it: the iridescent, shimmering, unnatural blue waters of the lagoon. The place is quite the impressive facility and also seems to generate it's own power through the heat of the hot springs that they harness in a factory not far away.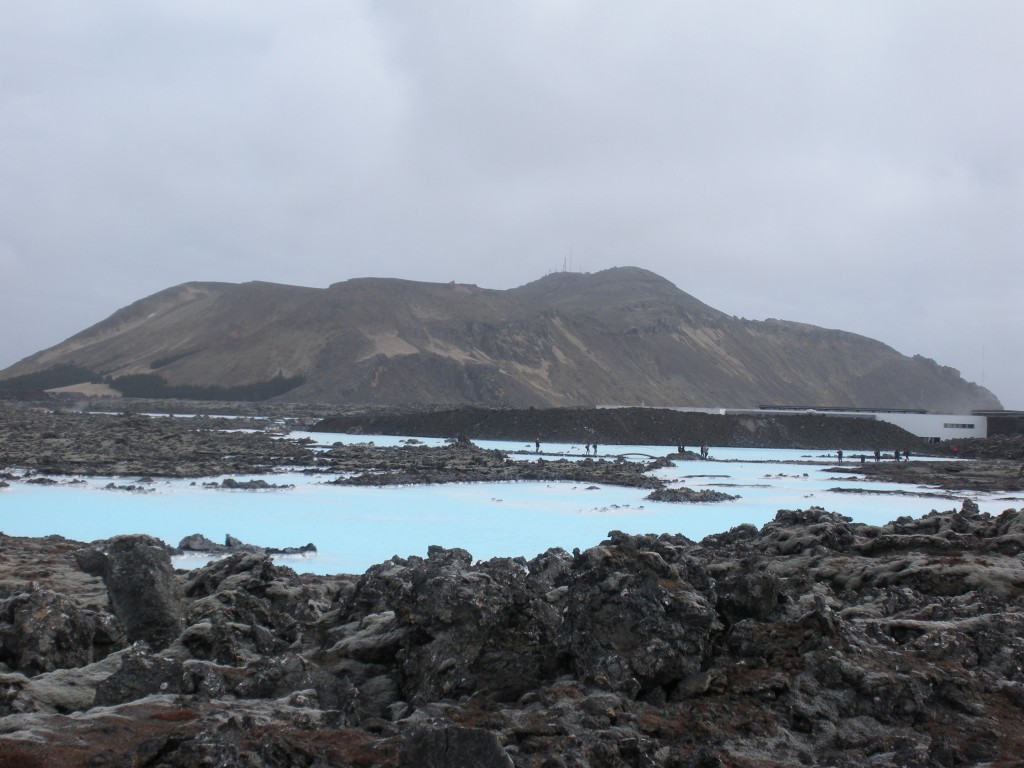 As we walked into the lobby we were disappointed to see a sign that said they were fully booked for the day. I had no idea one had to make reservations ahead of time… Whoops, I guess that's what happens when you book a trip to a foreign country at the last minute (this will be a reoccurring theme on the trip, as you will learn…) So we left and decided to do the Blue Lagoon at the end of our trip.
We climbed back into our home on wheels and headed to the next stop on our list: Landmannalaugar. It's not directly on the Ring Road but apparently a magical place and a must do full of colorful rock formations, hot springs and amazing hikes. On our way we drove through such a diverse amount of terrain in South Iceland. It's amazing how quickly the landscape changes in this little island. We set the GoPro on the dashboard and took time lapse footage of the entire drive.
We started getting hungry and still had a ways to go to reach Landmannlaugar so we pulled over for dinner on route 26. Not at a restaurant, but right there on the side of the road in our RV. I cooked hot dogs and broccoli. Talk about a well-balanced meal. After dinner and clean up, we headed back on the road.
The terrain where we were is so wind worn, so desolate, so isolated and so mysterious that it deserved theme music. Hello Enya. Oh how I love thee. Marc, not so much but he suffered through it like a champ.
From where we were there looked to be a choice of two roads to get to the campgrounds at Landmannalaugar: one was quite a few kilometers more but according to the map would only take six minutes longer, so we chose that route as we figured it was probably the better road. We worried the other route might be too rough for the motorhome.
About 20 kilometers into the drive the road changed from being asphalt to gravel, with no warning whatsoever, so we slow down from 80 kilometers/hour to about 25. Marc was starting to get a little concerned but I convinced him to keep going. Landmannalaugar is at the top of all the "must do" lists and since we knew there were only two routes to get there, we would just have to keep going.
After about 15 kilometers into the gravel drive Marc asks me to please Google more information on driving to Landmannalaugar in a motorhome. So to appease him I did. The first thing I immediately found made him slam on the brakes instantly: DO NOT drive if you are not in a 4×4 vehicle (we were not). DO NOT drive if you have no experience crossing a river (um, what?). DO NOT drive if you are traveling in a motorhome (Oh…right. Ok then). So, we promptly did an about face and turned around (which required me directing Marc in 30 degrees with 45 mile an hour winds as he did a 17 point turn on the tiny road to avoid crushing the protected moss).
Turns out that unless you have a 4X4 the only way to get to Landmannalaugar is to do an organized tour. Also what we learned (but not until the end of the trip of course) is there are four types of roads in Iceland: Route 1, two digit roads, three digit roads and F roads. The two digit roads are in fairly good shape, the three digit roads less so and F roads are straight up just for 4×4. Also what we have since learned is that on the East coast of the island, where many people make the huge mistake of not visiting, even Route 1 becomes gravel for a short portion. Again, that's what happens when you plan a trip to rustic, wild open country near the artic circle at the last minute without doing due diligence. Hurray to being spontaneous!
Meanwhile, it was 10:30 at night as we tried to find a camp ground now that our plans had been completely flipped upside down and it was still light outside. We finally saw a sign for a campground but it was closed as it hadn't opened for the summer season yet, but we were so tired we just parked in the entrance road for the night. And that's how we spent our first night in Iceland on the side of the road snug as a bug in our RV. Luckily in the area we were in, we only heard about 2 cars pass the entire night.
After a yummy breakfast of scrambled eggs, cereal and blueberries (which ended up being our standard) we continued our route. As we were driving we saw some sheep up ahead walking along the grassy bank on the left side of the road. To our right we saw a truck driving on the bank apparently herding some more sheep. As we pulled into the gas station at the corner to fill Betty up, it was clear the man was definitely herding his sheep in his pickup truck as they all took a right turn. Can't say I blame the guy. It was 37 degrees and freezing rain.
We decided to drive to Vik to see the black sand beaches. Along the way we came across our first waterfall: Seljalandsfoss. We happily detoured a couple kilometers off our route and headed towards the waterfall. It was a fairly important fall as there was a cute little shop and a small pop up café. The rain was still falling hard and the wind was coming at bursts up to 67 mph so we bundled up, I had 6 layers on, and headed out into the cold to walk the short, wet distance to see the falls.
The wind was blowing so strongly that at one point it literally knocked me off balance and tripped me up. It also caused the rain to pelt you in the face with such force it felt like small, razor sharp pebbles continuously hitting your face. I know you are thinking it was probably hail, but I promise it was not. It was truly that the wind was blowing so incredibly hard.
Just one way to describe how strong the wind is and how crazy the weather is, at one point as we were parked in a gas station refueling, I could have sworn I started hearing rainfall. But I couldn't see anything on the windshield, there were no raindrops falling. But I kept hearing the distinct sound of rain… finally I turn my head to the back "dining room" window and realized that it was in fact raining, sideways. The wind was coming from behind the trailer, which is why I couldn't see it on the windshield. Be prepared to be cold and wet, even in May, if you visit Iceland.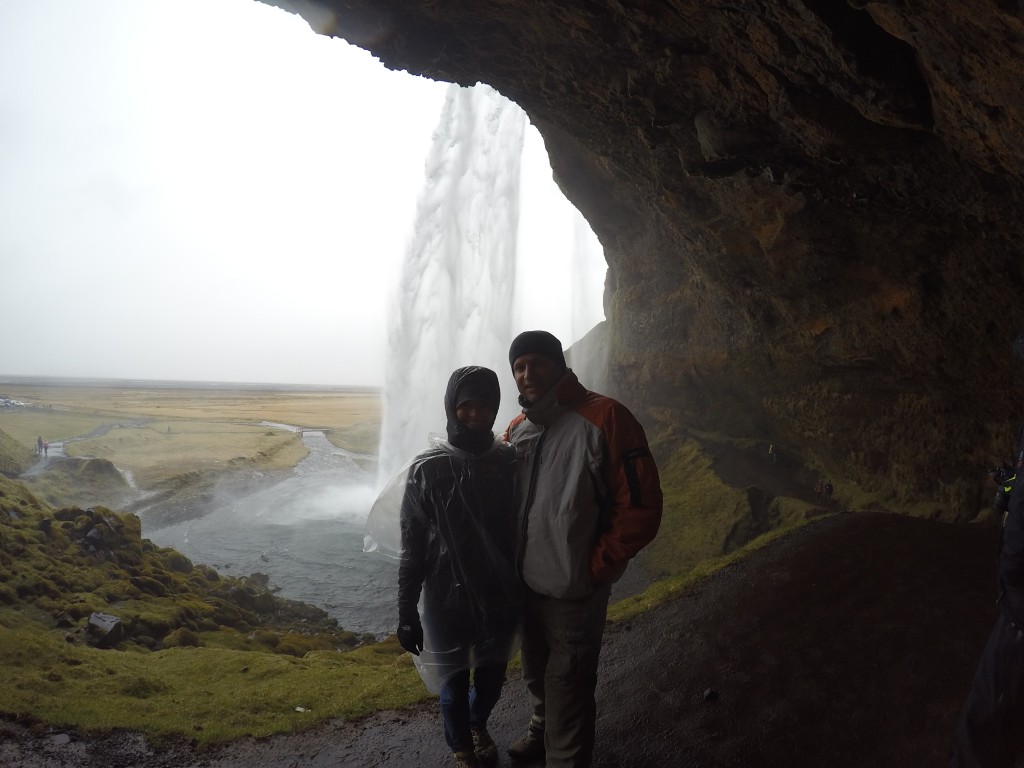 The drive from Seljalandsfoss to Vik was beautiful. Flat, flat ground then amazing protruding, rocky mountains and huge rock formations, not to mention the roaring ocean to our right almost the entire way. We saw many tiny half way underground huts built into the sides of the rocks. It's so picturesque. And of course the drive was full of waterfalls lining the mountain ridge that paralleled the road.
Just before reaching Vik we detoured off at Kirkjufjara beach to see the black sand beaches. The wind was still howling and the rain pounding, but we ran to the beach, watched the waves furiously crashing against the black cliffs and ran back to the RV.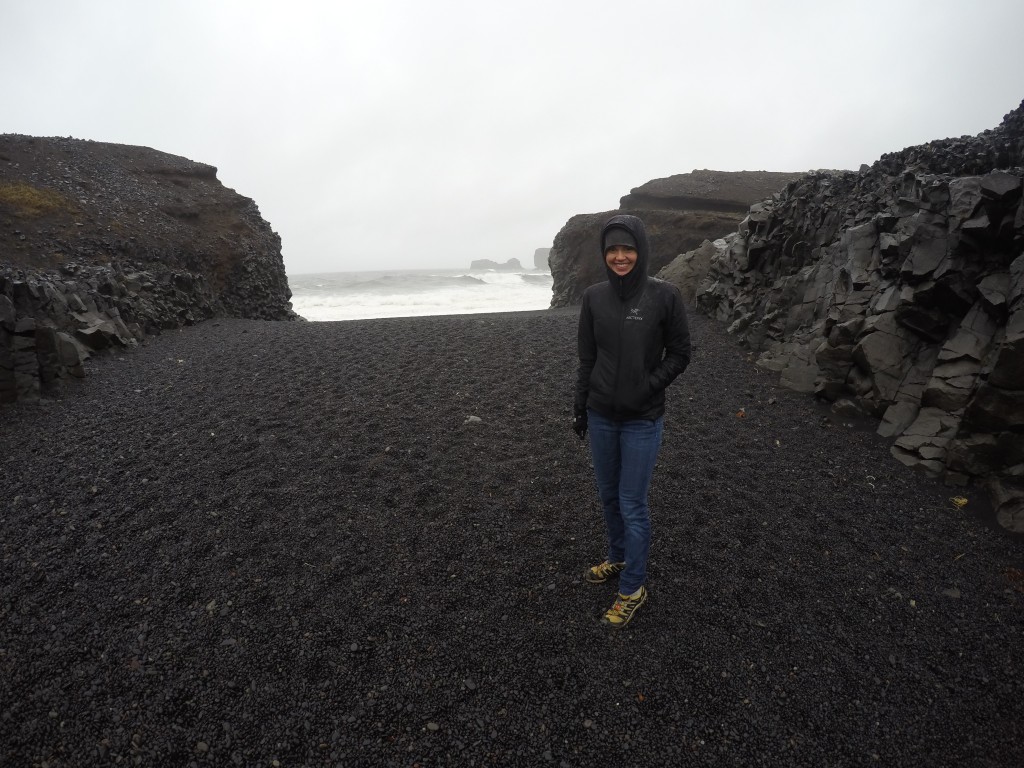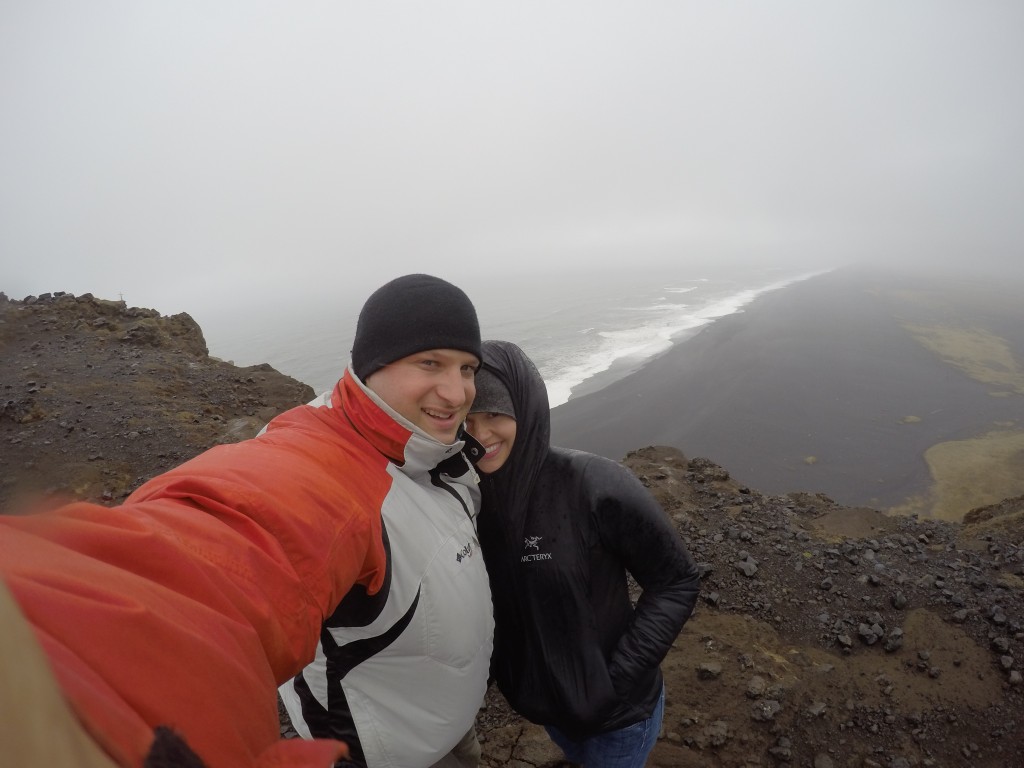 From there we drove to the famous Dyrhólaey which was only a couple of kilometers away. The views from the top of the cliff to the ocean and black sand beaches below were amazing, but it was so cold we didn't stay out long. One huge advantage to the RV over tour buses or a rental car, we were able to take off wet layers and get warm and dry immediately upon returning to the RV. We also made a ritual of tea and hot chocolate. We had lunch with a view of the roaring ocean before heading to the next famous spot: the Jökulsárlón Glacial Lagoon.
We made it just in time for the last boat of the day. And thank goodness as we learned they have to assess if they will run boats or not each morning depending on the weather and how the icebergs have shifted. With Mother Nature there is never knowing what may happen.
This place was really amazing. It's a huge glacial lake cut by the receding glacier but it's unique in that it's the inlet of a bay, so seawater mixes with the fresh water. The problem with that is that it causes the ice to melt. Eventually all the ice will be melted in the Glacial Lagoon not just because of global warming, but because of the salt water as well. But for now it's beautiful so we very much enjoyed the boat tour among the beautiful, blue icebergs.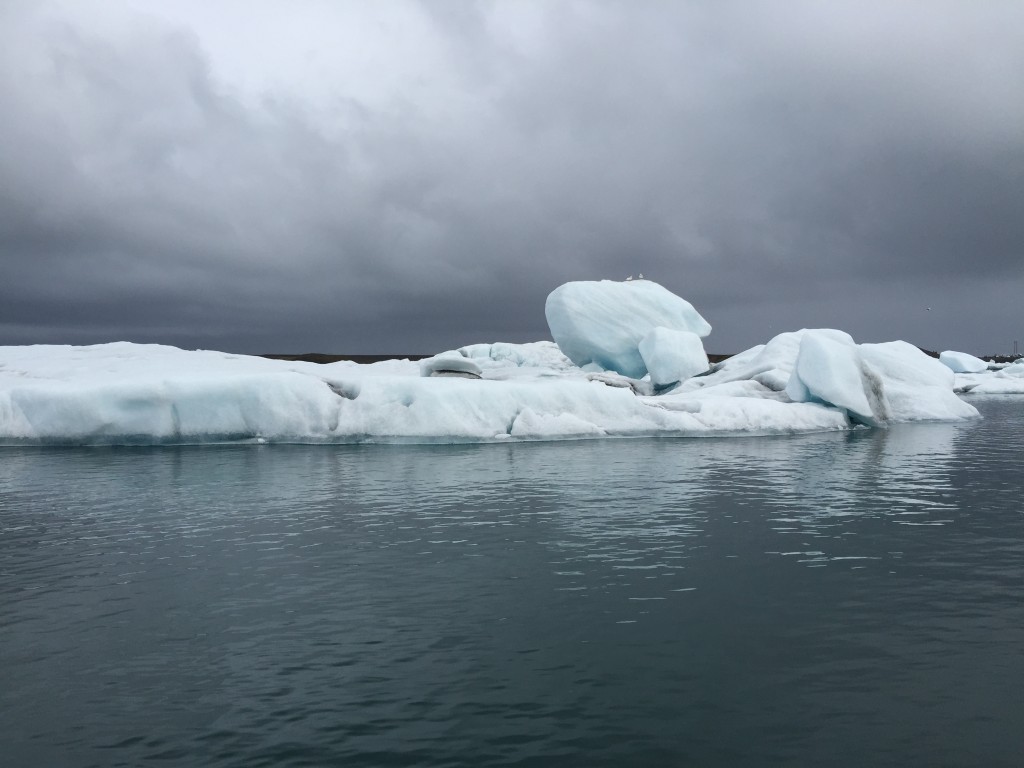 Fun fact: A scene from the James Bond Die Another Day movie was filmed on this glacial lagoon. It's a scene in which Bond and one of the villains have a car race on a frozen solid lake. The production built a wall at the inlet of the lagoon to stop the sea water coming into the lagoon. It took two months to freeze but it froze solid to the bottom which is over 250 meters deep. That is a serious amount of solid ice. After they filmed the scene they tore down the wall and the sea water was let back in.
After our boat ride we back tracked a bit towards Skaftafell National Park to the campgrounds. Luckily they were open so we were able to plug in to electricity for the night. We had a yummy dinner of burgers and mashed sweet potatoes with another amazing view.
After dinner we decided to go check out the campground as it was right at the edge of a glacier. And it was only 10pm so the sun was still out, obviously. The trail to the glacier was beautiful. The smell of the shrubbery coming back to life after a long winter was invigorating and the final destination awe-inspiring.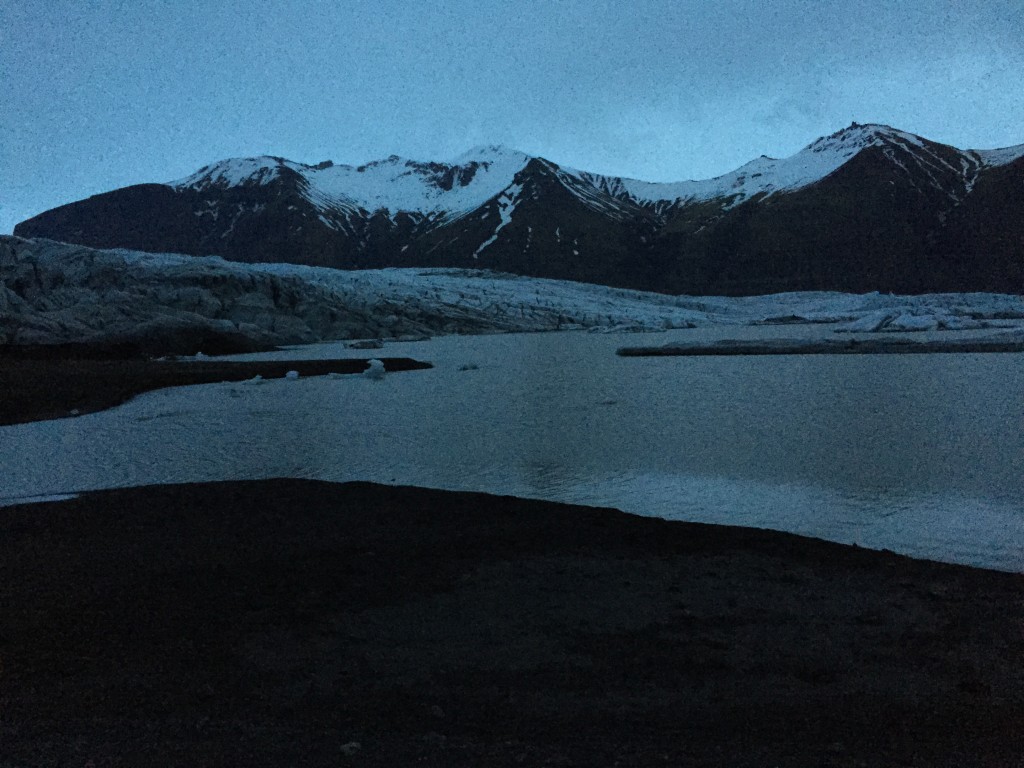 We got a late start the next morning as the jetlag was starting to set in. Not to mention it was torrential downpour outside which made it hard to leave our little cocoon. Our next destination was Lake Mývatn, which was almost six hours away. So we finally got up and got going, sadly saying goodbye to our glacier. What I didn't know at the time was that by the end of the day we wouldn't reach Mývatn but we would get to heaven.
I should mention when I say "we" had to drive I mean Marc. Betty was stick shift so poor Marc drove the entire 2,000+ kilometers of our trip. That day we left the south coast and the Ring Road took us east and north. We were surrounded by mountains and rarely saw a car. It was so beautiful. We saw reindeer trespassing on a farm so we decided to trespass as well and pull in to take some pictures.
This was the day, on the lesser-traveled east coast, that the Ring Road was no longer pavement and for Marc's blood pressure, it could not have come at a worse time. Suddenly the Ring Road takes us through a mountain pass still very much covered in snow. On a gravel road. In an RV without 4 wheel drive, too narrow to turn around if we got stuck with about 30 feet of visibility.
His stress level was at a 10 as he drove us up the steep, narrow, curvy and slippery road with only a wall of packed snow to our right and a steep drop to our left. At one point even I was scared. I said a quick prayer while both our hearts were pounding during a particularly sharp, wet curve.
But when we finally got to the top of the ridge where it flattened out more and the fog cleared all you could see was white snow, my fear abated and I felt like I was in heaven. Poor Marc on the other hand was still in hell having mini heart attacks. He just wanted to get down off the ridge and away from the snow as quickly and as safely as possible.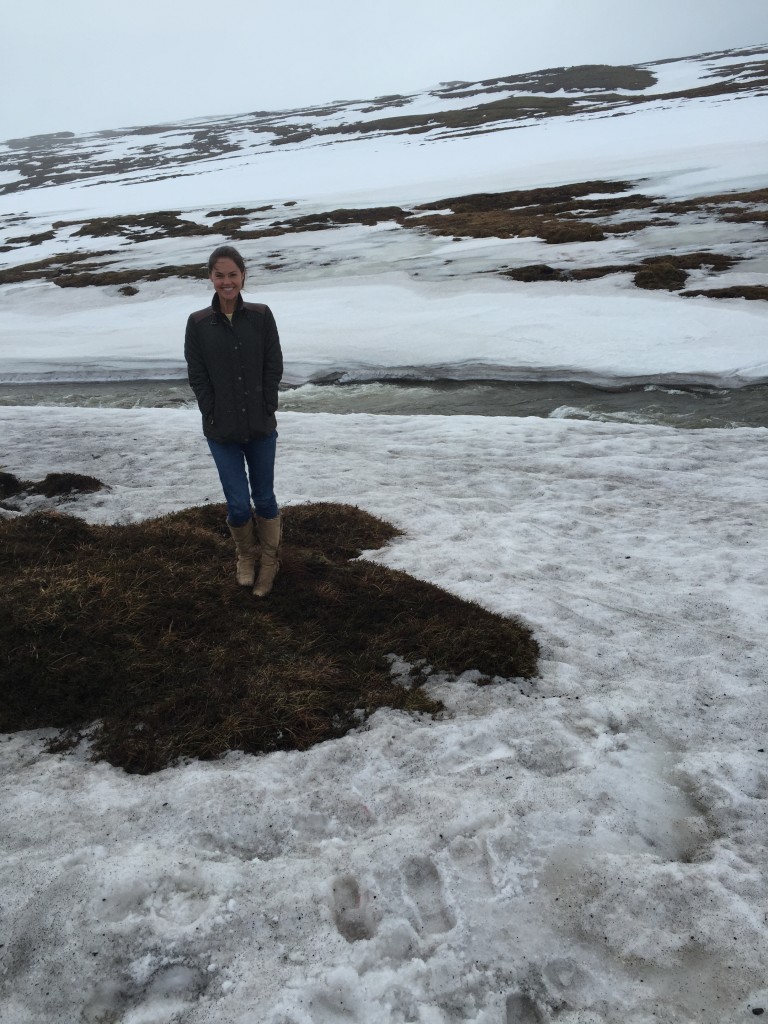 The landscape did finally clear and we found ourselves driving through a valley in between two mountain ridges.
We veered off the Ring Road and went down route 931 to a beautiful lake and wooded area called Hallormsstadur. Folks, this is the correct spelling of this town. I didn't even try to pronounce it. Basically Marc and I became accustomed to just spelling things out to each other rather than attempt to phonetically sound it out.
This was probably one of the most beautiful places we had seen to date on our trip. And unfortunately for most people who don't travel to East Iceland, they never get to see it.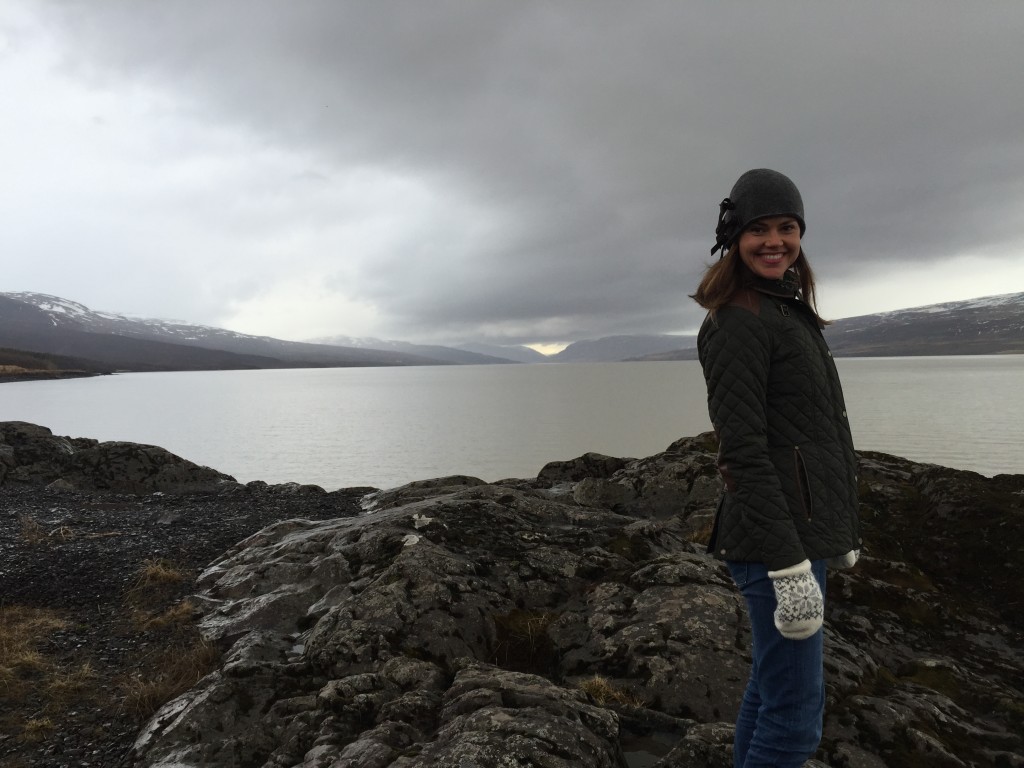 But fortunately for us that meant we had the peaceful lake and the whole black pebble beach to ourselves. We took a walk, skipped stones on the lake and had a snack sitting on some boulders before packing it up to continue the drive.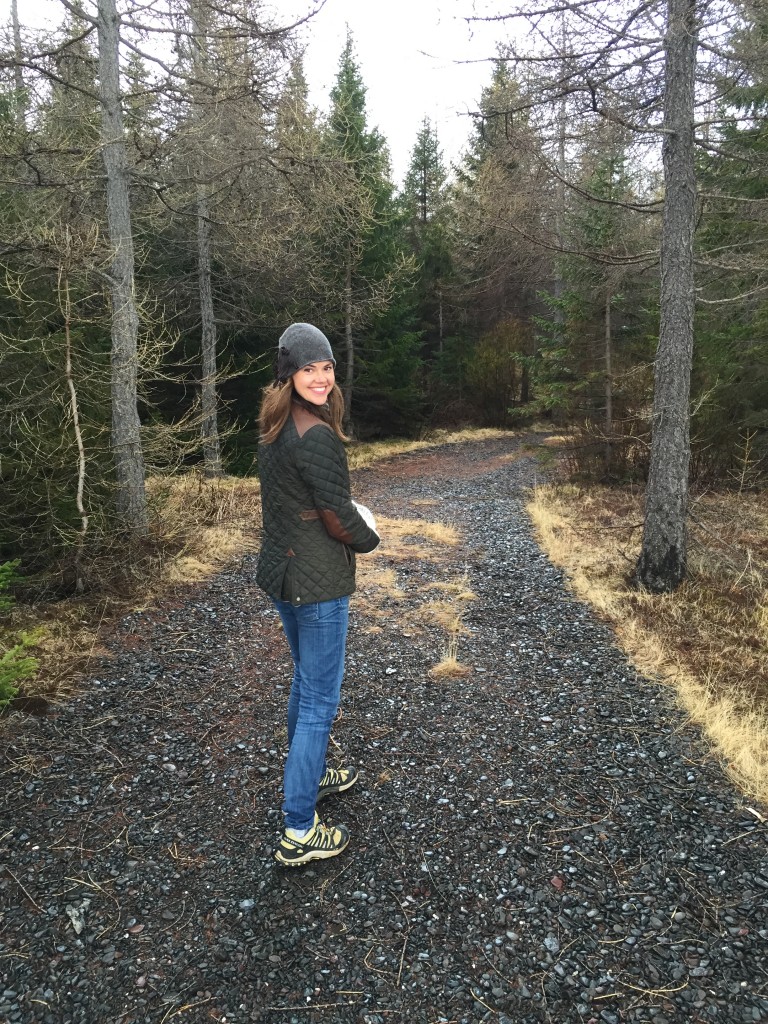 As we were moving further north the landscape started to get snowy again. Suddenly Betty starts screaming at us and German words start flashing on the dashboard. Marc pulled over at the first place available to figure out what was going on. Meanwhile, I got out of the car and decided to explore. What I ended up finding was the most beautiful half frozen waterfall!
I climbed higher up the mountain and yelled down for Marc to join me. We took some pictures but it was starting to get really cold and of course, as always, the wind was brutal, so we quickly made our way back to Betty. Turns out the reason for the flashing symbol and beeping was a warning that the outside temperature was extremely cold. Betty: aka Captain Obvious.
As we continued along the Ring Road we felt we were increasing in elevation until we finally crossed over the top of the mountain ridge and were in another high, flat valley in between the peaks of two mountain ridges. All white snow for miles and miles and I was in heaven once again.
But then the thing that really made this the best day of the trip: the sun! We hadn't seen the sun yet in Iceland as the weather had been rainy and gray, but here we were just passing 1000 kilometers on our trip after 10 at night on top of a mountain with the first sun we'd seen in days! I really thought I died and went to heaven. It was so beautiful, so peaceful, so white…I never wanted to leave.
We still had over 60 kilometers to Lake Mývatn but thankfully we saw a sign for a campground in Möðrudalur, so we turned off the Ring Road and hoped for the best. We were still very high on the mountain and we hadn't seen anyone for hours so there was no telling if the campground would be open.
After a few kilometers we finally saw some buildings, which turned out to be the adorable town of Fjallakaffi. When I say town I mean about 12 buildings and a church. Which all turned out to be owned by the man inside the café whom I spoke with, at 11:30 at night, who said this was his "farm". The campground was not yet open for the season but the lovely man let us park, hook up to electricity and load up on drinking water.
I guess being so high and so north in that part of the country, even in early summer, it doesn't get dark. The man in the café was still working with a friend expanding to the restaurant. Like I said before, everywhere in Iceland we saw additions being built on to visitor centers, hotels, campgrounds, etc. The tourism in Iceland is really picking up at a high speed. I'm glad for the country as it's full of beauty and wonderful people, but I worry the effects the tourism will have on the delicate ecosystem there…
We had dinner after midnight and by 1am it was finally looking like it was starting to get dark, but by 2am the sun was bright and shining again.
Thus ended my favorite day in that crazy, beautiful, odd little country.