My family have always loved the mountains. We love vacations where we get the chance to spend time in nature, explore and get some exercise. Growing up in north central Florida the natural and most convenient thing was to have a beach house for the weekends and summer. As kids my brother and I loved the beach and we used the house a lot, but as we've gotten older we just don't use it anymore. Plus we both live in Atlanta which is a good six hour drive to St. Augustine. So three years ago my parents bought a mountain house in north Georgia in a wonderful community called Big Canoe. We had spent a few summers renting places in Cashiers and Highlands, North Carolina to get a feel for the area to see if that's where we wanted a mountain house. We fell in love with Cashiers but my mom was worried about how cold it would get in the winter and the drive it would be for my parents from their home in Florida. So after a few years of searching and thinking and trying out places, by chance someone mentioned Big Canoe to my dad. On my 30th birthday I took the day off from work (no way I was going to work on such a sad birthday, on a Monday no less) and rode up with my parents to meet a realtor to show us around Big Canoe. We were instantly blown away. To make a long story short, Big Canoe is an amazing 8,000+ acre community in north Georgia and if you live in the Atlanta area and haven't visited yet, you should.
We visited a few houses that were on the market that day, but there was something about the very first house we walked into that just felt right. All three of us felt it. It just felt like it was our home and it was waiting for us to buy it. We saw another house that was a foreclosure: bigger, newer, immaculate in it's details and the same price as the first house. It was beautiful and we loved it. Yet, none of us got that same feeling of comfort we did from the first house. A few weeks later we rented a house for the weekend and this time my brother came with us. We visited the same houses my parents and I had seen last time, and the second he stepped into "the" house he said "This is it. This is the house." He got that same feeling of home as the rest of us had, so that was that. My parents put in an offer and bought the house.
We love going to our house in Big Canoe. My parents make the 6.5 hour drive from Ocala to Big Canoe as often as they can and my brother and I come up on weekends with friends. There are so many beautiful hikes, some easy, some hard but all of them full of different varieties of pine cones. Here we are, finally getting to the point of this post. My mom is obsessed with pine cones. Quite often on our walks she'll have a little bag with her that she fills with pine cones that we find on our way. Sometimes they are the adorable little tiny ones, sometimes they are of the bigger variety. A few weeks ago we were on a hike with one of her friends and kept seeing beautiful perfect pines cones on the larger side. So we packed them all up and decided to make a Christmas wreath out of them.
My mom and her good friend Kandie went out to run a couple of errands and came back with the supplies we needed to make the wreath. That included a glue gun, plenty of glue sticks (we did not have enough so had to run out to buy more, make sure to get A LOT of glue sticks), a wreath frame and white spray paint (not very environmentally friendly, I know). All in all I think they spent around $10.
We laid out all of our supplies and pine cones on newspaper and made a game plan of how we wanted it to look. We decided to do a row of smaller pine cones on the inside of the frame,
then a row of larger ones on the outer edge of the frame,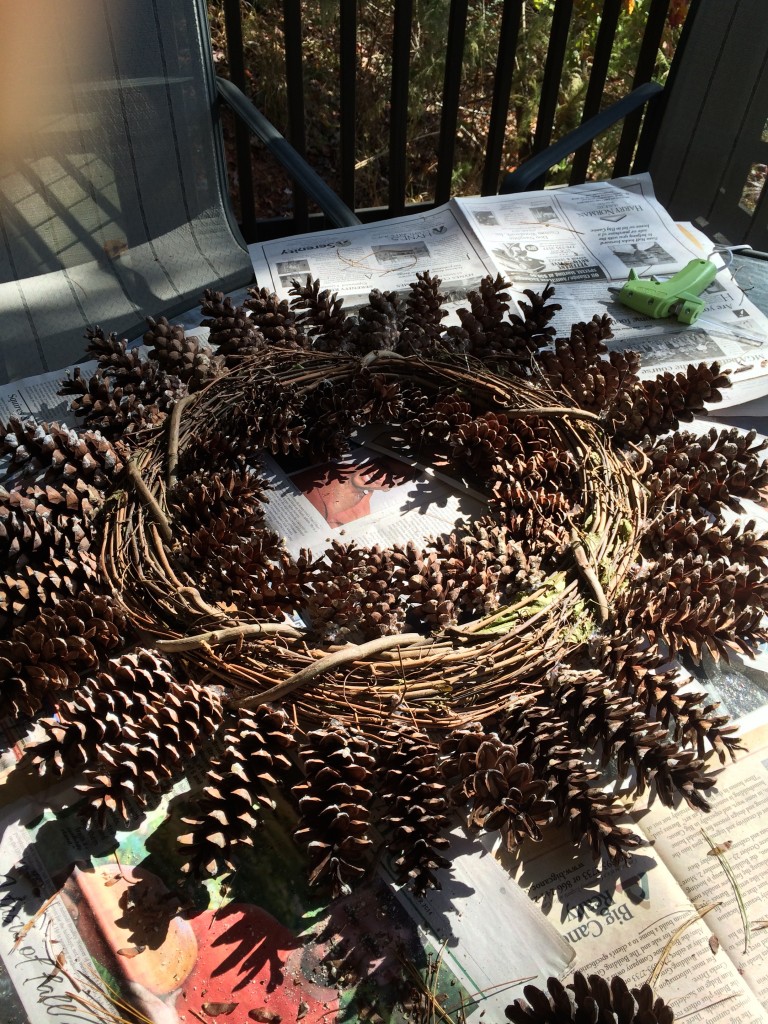 then lay another row of pine cones in between those two layers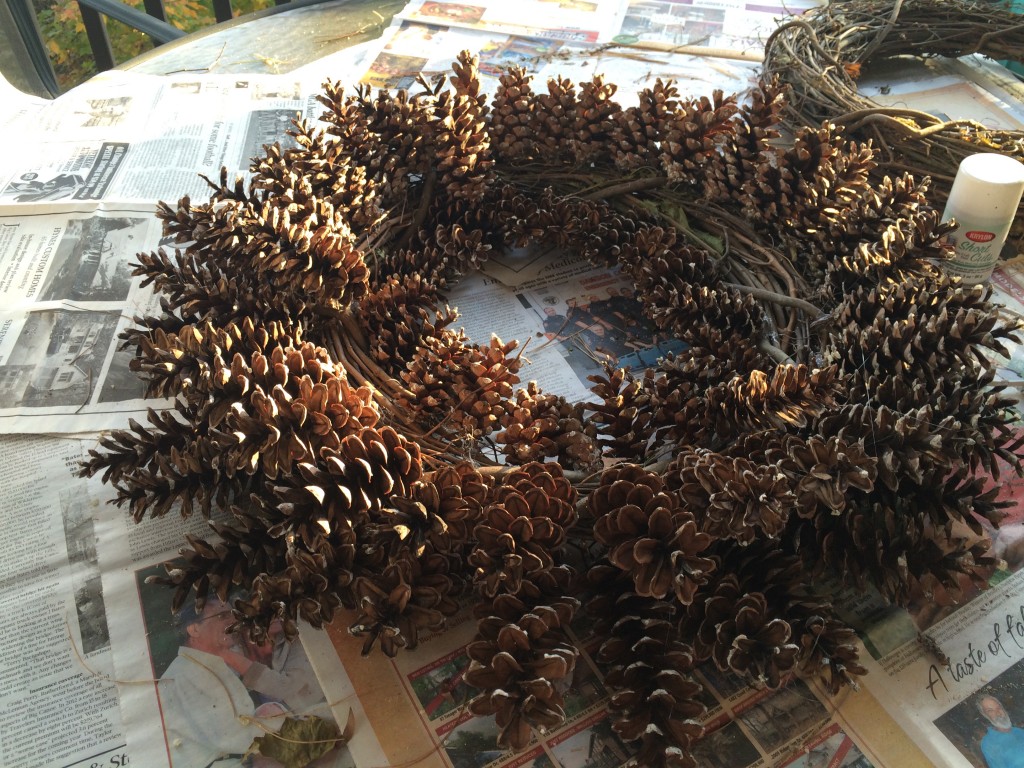 and finish off any gaps or holes with random pine cones.
I have to say, one could probably do this on their own, but it was extremely helpful having an extra pair of hands to hold the pine cones in place while the glue dried. Thanks so much Kandie for being my helper!
Once all the glue had dried we took it out to the yard and sprayed it with a whole small can of white spray paint and topped it off with some "diamond dust" spray paint (sorry don't have any pictures of that process, but it's pretty self explanatory: point and spray).
I took the wreath home and along the way stopped at Michael's and bought a $3 wreath and about $8 worth of fake red berries to add to the wreath. And here's the finished product:
I put this up on my door to take the picture and my neighbor walked by and commented on how pretty it was (and also commented "Why do you have a Christmas wreath up before Thanksgiving?") When I told her I made the wreath she couldn't believe it, she thought it was store bought. So, for under $20 I have the satisfaction of having a beautiful Christmas wreath that I can proudly say I made myself with the primary material for free that I found on the ground. So next time you are out in nature and see something beautiful that's being offered up to you, think twice before walking by it and use your imagination to make something wonderful out of it.